The 1885 North-West Resistance/Rebellion was an insurgency by the Métis Peoples against the Canadian government. This 5-month, violent resistance lasted from March 25 to May 12, in the districts of Saskatchewan and Alberta. Under the leadership of Louis Riel, the Métis Peoples and their allies the First Nations Cree and Assiniboine, fought multiple battles to protect their rights, their land, and their culture. The resistance was lost, Canadian law was enforced in the West, and this led to the subjugation of Indigenous Peoples along with the conviction of Louis Riel.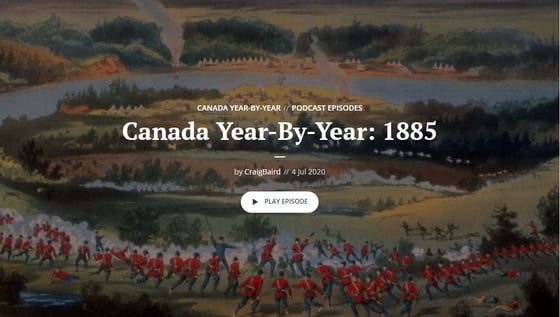 Activity Idea: Canada's History has an article that students can read to learn more about the 1885 North-West Resistance. Here students can find 6 different activities which discuss Louis Riel, the events prior to the North-West Resistance, and events beyond.
---
Under the leadership of Louis Riel, the Métis Peoples and their allies the First Nations Cree and Assiniboine, fought multiple battles to protect their rights, their land, and their culture.
---
The Lead Up
The Métis had many grievances with the Canadian government, stemming from their under-representation in the North-West Territories, what is present day Saskatchewan and Alberta. The government continuously neglected their petitions for formal land titles and real political representation. They did not want the same outcome as that from the Red River Resistance. A committee of Métis leaders put together a list of demands and sent them to Sir John A. Macdonald in Ottawa. This petition included requests for a responsible provincial government, full land titles, the river lot land system, and the formal recognition of Louis Riel's leadership.
Louis Riel is Back
If you want to learn about Louis Riel before 1885, including his first involvement in a resistance movement, check out our blog on the Red River Resistance. Louis Riel was brought back from exile in the United States by the Métis, to once again assist in their fight. In December of 1884, he drafted a new, more urgent petition to be sent to Sir John A. Macdonald. In January, the Canadian government denied these grievances and refused to negotiate with Louis Riel; this is what many believe sparked the resistance. Louis Riel and other Métis leaders then set up a provisional government.
Activity Idea: To solidify who Louis Riel was, get students to work through this lesson plan by CBC.
Gabriel Dumont and the Battle of Duck Lake
Gabriel Dumont was a Métis leader, political figure, hunting chief, and warrior. Under the leadership of Louis Riel, he was appointed the military general during the 1885 Resistance. On March 26, about 2 kms from the community of Duck Lake, Gabriel Dumont led a group of Métis and First Nations militia to meet the North-West Mounted Police (NWMP) and armed volunteers. Negotiations didn't work and the battle began, lasting 30 minutes, and ending with the retreat of the NWMP and volunteers. It was considered a win for the Métis, even though both sides suffered losses.
Activity Idea: To learn more about Gabriel Dumont have students complete this lesson plan by Historica Canada. They will learn about his life and accomplishments and gain a stronger appreciation for Métis history and culture.
Battle of Fish Creek
After the loss at Duck Lake the Canadian government acted quickly, mobilizing about 5,000 troops and sending them to Saskatchewan to be commanded by General Middleton. The Battle of Fish Creek, also known as the Battle of Tourond's Coulee, happened in April of 1885. General Middleton's forces had been marching toward Batoche and on April 23rd were 10 kms from Fish Creek. Gabriel Dumont decided to ambush Middleton's troops at Tourond's Coulee, while Riel stayed behind with 50 men to guard Batoche. After a full day of fighting, both commanders decided to pull back. Middleton was unable to fight off the Métis and his advance was stopped.
Activity Idea: Students can go through this website to see images of the Battle of Fish Creek.
Battle of Batoche
The Battle of Batoche would be one of attrition. Middleton would wait two weeks before once again heading for Batoche, where the Métis had decided to make their stand. The fighting began on May 9th, each day the troops would march out and attack the Métis with little success and then return to camp by nightfall. On May 12th the Métis, exhausted and out of ammunition, were over-run and the resistance was lost.
Activity Idea: Watch the CBC TV Documentary "The Mystery of the Bell" and work through this activity with your students. This activity explores the mystery of the Bell of Batoche which was believed to have been stolen after the battle in 1885, students will learn about different people, historical events, and develop critical thinking.
Outcomes
Gabriel Dumont fled to Montana after the Battle of Batoche and Louis Riel surrendered on May 15. He was tried and found guilty of high treason in Regina and, after a couple of appeals, was hung for his crimes on November 16. The government arrested many more people, including the members of the provisional government Riel had created. These members pleaded guilty and received various sentences of up to 7 years in prison. This resistance was the pinnacle of government control over Indigenous communities and settlers in the West. Indigenous communities only became more subjugated; it would take them decades to recover emotionally and politically.
Activity Idea: After learning about the North-West Resistance and the Red River Resistance students can browse this website for further information, documents, and images.